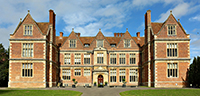 19 December
Shaw House presents:
Christmas table flower arrangements
Adult Workshop
10:00am
- 12:30
Shaw House, Church Road, Newbury, Berkshire RG14 2DR
As Christmas draws near we begin to plan our festive table. You will create your own personalised Christmas table arrangement with three choices; the classic rectangular arrangement to suit a long table, the posy design suitable for round dinner tables or a circular arrangement made from an oasis wreath frame in which you can place your candles tea lights inside at home.
There will be a selection of fragrant greenery pine cones, dried fruits, cinnamon sticks and candles available. Instruction from Kim will be given to her you all started. The lavenders team will be on hand to help you all.
Please let us know your personal choice of arrangement at time of booking.
No experience required.
Price includes tea/filter coffee and mince pie.
£35 per person
Tickets: