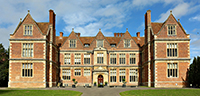 14 August
Shaw House presents:
The Wind in the Willows
(Open Air Theatre)
6:00pm

Shaw House, Church Road, Newbury, Berkshire RG14 2DR
Award-nominated Immersion Theatre brings a spectacular musical adaptation of the classic, The Wind in the Willows to Shaw House this summer.
Pack your picnics and join the boat-loving Ratty, the sensible yet curious Mole, wise old Badger and the fantastically irrepressible Toad as they embark on the adventure of a lifetime culminating in a colourful battle with the sly weasel to save Toad Hall!
Eye-catching costumes, toe-tapping music and larger than life characters promise to capture the imagination of the youngest of audience members whilst the sheer nostalgic charm of this beloved story is guaranteed to take older generations on a glorious trip down the riverbank onto memory lane. The perfect summer holiday treat for all the family!
Performance approx 1hr 40mins (plus 20 min interval time). Please bring your own seating/rug, warm clothes and picnic. The café will be open serving light refreshments including ice cream and locally produced beer and cider.
Tickets: